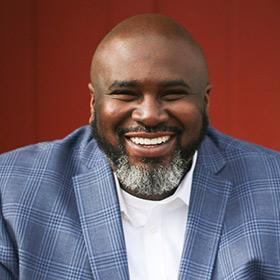 Edrin Williams
Senior Pastor
It's been my pleasure to serve here at Sanctuary since 2011. In my current role as Formation Pastor, I get to create spaces for adults to Connect, Grow, & Serve in ways that draw them closer to God and other people. Having served two churches in North Minneapolis for well over a decade, I'm very excited about the opportunities that we have to join with God and our many partners to bring about healing and transformation in North Minneapolis and beyond!
At my core, I am a South Carolinian who loves Minneapolis, music, history, people, travel, Bar-B-Que, and SEC football! I am married to an amazing woman, Shanequa, and we are parents to two beautiful girls, Taylor & Harper. I am a lifelong learner. I studied African-American Studies & U.S. History at the University of South Carolina in Columbia, SC. I earned a Masters of Divinity degree in Preaching & Communication from Bethel Seminary in St. Paul, MN. I've taken part in numerous other fellowships and cohorts over the years.
Beyond my work at Sanctuary, I am passionate about developing leaders of all ages who will impact society from their sphere of influence. I love writing and speaking! I am at my best when I'm using biblical teaching, humor, storytelling and my background in the humanities & social sciences to influence others in the ways of Jesus. Most recently, I was a contributor to the book,
Father Factor: American Christian Men on Fatherhood and Faith
, a project with White Cloud Press, and the author of 
Reclaiming Fatherhood
, which appeared in YouthWorker Journal. You can find my irregular but interesting blogs about faith, family, and other topics at 
www.edrinwilliams.com
.